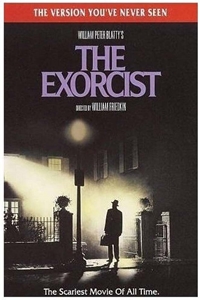 Movie Information
Release
October 24th
Rating
NR
Genre
Drama / Horror
Runtime
2:13
Director
William Friedkin
Cast
Jason Miller,
Ellen Burstyn
Synopsis
William Friedkin directs one of the most horrifying movies ever made.

When a charming 12-year-old girl takes on the characteristics and voices of others, doctors say there is nothing they can do. As people begin to die, the girl's mother realizes her daughter has been possessed by the devil--and that her daughter's only possible hope lies with two priests and the ancient rite of demonic exorcism.

Based on the novel by William Peter Blatty.

This rereleased version includes previously unseen footage.
Comments

Part of the Happy Hour Classic Series. Admission includes a complimentary cocktail or soft drink and light appetizers starting at 6:00 PM.